Rodriguez Funeral Home
Products and Services
We offer a wide variety of products and services: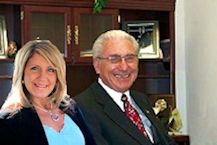 • Pre-need
• Funeral Services: Graveside, Memorial, Chapel, Viewings
• Crypts, Memorials, Flowers, etc.
We are an independent, family oriented business. Our daughter and father team (pictured above) and our professional staff are here to help.
• Pre-need:
The purpose of pre-need funeral insurance is to set aside funds before the need arises; thereby protecting your loved ones and your financial assets by "locking in" on today's costs. In other words, you can preplan and prepay your funeral arrangements for tomorrow, today, at today's prices.
A pre-need funeral contract typically includes professional services, funeral merchandise, funeral services and even cemetery services and merchandise. We guarantee that we will provide the services you select and the merchandise you select at the time of need, at the price agreed upon in your policy. Contact us about a pre-need policy (info@RodriguezFuneral.com) . <top>

• Funeral Services:
The funeral ceremony is for the living, for those who have suffered the trauma of losing a loved one. It is through the funeral process that a number of emotional needs are met. The funeral declares that a death has occurred, commemorates the life that has been lived, and offers family and friends the opportunity to pay tribute to their loved one.
We at Rodriguez Funeral Home can suggest a variety of ceremonies that will help you and your family begin the essential grieving process. We offer traditional services or we can tailor a funeral service to reflect the personality and lifestyle of the deceased. Contact us for more information about funeral services (info@RodriguezFuneral.com). <top>

• Cremations:
Rodriguez Funeral Home offers crematory services. The choice of cremation does not necessarily eliminate the need for a funeral. A traditional or contemporary-type service is often planned to take place before the cremation process. Contrary to what some people believe, cremation does not limit one's choices. Contact us for more information about crematory and funeral services (info@RodriguezFuneral.com). <top>

• Burial Merchandise:
Whether you are preplanning for yourself or choosing for a loved one, a casket or urn selection is a very personal decision and an expression of your feelings. We at Rodriguez Funeral Home understand this. We can assist you in selecting the right funeral merchandise from our wide variety of caskets, urns, headliners, vaults and accessories. Come in and let us show you our complete line of burial merchandise.
To view a sampling of our casket selection click here: CASKET SAMPLES. <top>

• Other Products and Services:
Our business experience extends over a period of 60 years; therefore, we have acquired a large number of friends and contacts throughout the United States. In addition to our wide selection of funeral merchandise, we are able to arrange with other appropriate businesses to ensure that we can meet all your needs for your funeral plans. We can arrange for flowers, memorials, monuments, etc. Our staff will do our best to meet your needs and requirements. Contact us for more information on how we can help you with your funeral needs (info@RodriguezFuneral.com). <top>

• Customer Service:
When a death occurs, it can be difficult to think clearly and rationally about what may be involved in making funeral arrangements. Our well trained, professional, experienced staff can help you in your time of need. We can also help you before the time of need to pre-plan your arrangements. Contact us and let us know how we can best serve you (info@RodriguezFuneral.com). <top>